Every guitar player dreams of having the perfect custom pedalboard, but building your own custom board all by yourself can be an expensive and time-consuming process that leaves you frustrated and broke. But here at Pedal Pad, we know it doesn't have to be that way.
We specialize in producing high-quality custom pedalboards that give guitarists everywhere the freedom to design their own custom boards without the hassle of buying supplies and constructing them themselves. With Pedal Pad, it's never been easier to get your hands on your very own dream board, but how can you get started?
How to Design Your Own Custom Pedalboards
Even when all the hard assembly work is being done for you, designing your own pedalboard for the first time can be a daunting task. It can be difficult to nail down exactly what you think your dream pedalboard should look like, and even if it's easy for you to think of all the features you need on your pedalboard now, it can be nerve-wracking trying to predict and plan for what you might need months or years down the line.
Still, there's no need to worry. All of us here at Pedal Pad have been there before, and in fact, it's a big reason why we got started making custom pedalboards to begin with. So, if you want to ensure that you design the perfect Pedal Pad custom pedalboard, these are the most important things you should consider.
How Much Board Space Do You Need?
This is probably the most obvious question to ask yourself, but it's also the most important. After all, the main purpose of a pedalboard is to provide you with a convenient way to house and transport your collection of effects pedals.
Are you a traditionalist who only wants a few of the basics on deck to really dial in your tone, or are you more of an experimental shoegazer that wants an absolute behemoth loaded up with 20 different pedals for making dreamy loops and soundscape? These are the questions you should be asking yourself because they drastically affect how much board space you'll need.
Even if you find yourself somewhere in the middle, it's pretty likely that another pedal will catch your eye down the road, so it's always a good idea to leave a bit of extra room for future expansion.
What About Your Power Supplies?
Unless you're letting all your effects pedals run on battery power, which we definitely don't recommend, you're going to need to think about how you want to power your pedals.
The most common ways of doing this are by either connecting your pedals together with a daisy chain that allows power from the outlet to run through all the pedals connected to the chain or with a power brick that plugs into the wall and has multiple outlets that your pedals can plug into individually.
Daisy chains tend to take up a lot less space than power bricks, but if you have a lot of pedals, a power brick is undoubtedly the more reliable option. However, no matter which power supply you choose, you should be aware of how much space you'll need to store it comfortably, either on or under the board.
Pedal Pad custom pedalboards also have the option to add built-in power inlets and switches so that you can leave your power supply plugged into the board and simply plug the board itself into the wall. This makes setting up and packing away your board a lot easier, so this option should also be considered when designing your custom pedalboard.
How Many Input and Output Jacks Do You Want?
Power inlets aren't the only thing you can have built right into your board. You can also have input and output jacks built right in to make it even easier to set up your board. While most guitar players will probably be content with one of each, if, for example, you want to have multiple different channels playing out of multiple amps, you should consider adding more.
Do You Need Extra Room For Storage?
One often overlooked aspect of custom pedalboard design is storage. Whether you just want to have enough room to store a few extra cables and zip ties, or you need to have more room to fit your power supply and any other products you might want to bring along, it's best to double-check to make sure that you're going to have enough storage space.
What Do You Want the Your Pedalboard Case to Look Like?
One of the best things about Pedal Pad custom pedalboards is that you can make the finish of the outside casing of your board look any way you want it to. Your pedalboard should be so much more than just a box to hold your pedals, so make it stick out so that no one could ever confuse it for their own.
With an endless amount of colors, designs, and finishes to choose from, it may take a little while to finally decide what you think will look best, but no matter which one your choose, you can guarantee that you'll have a unique board that looks even better than you could have imagined.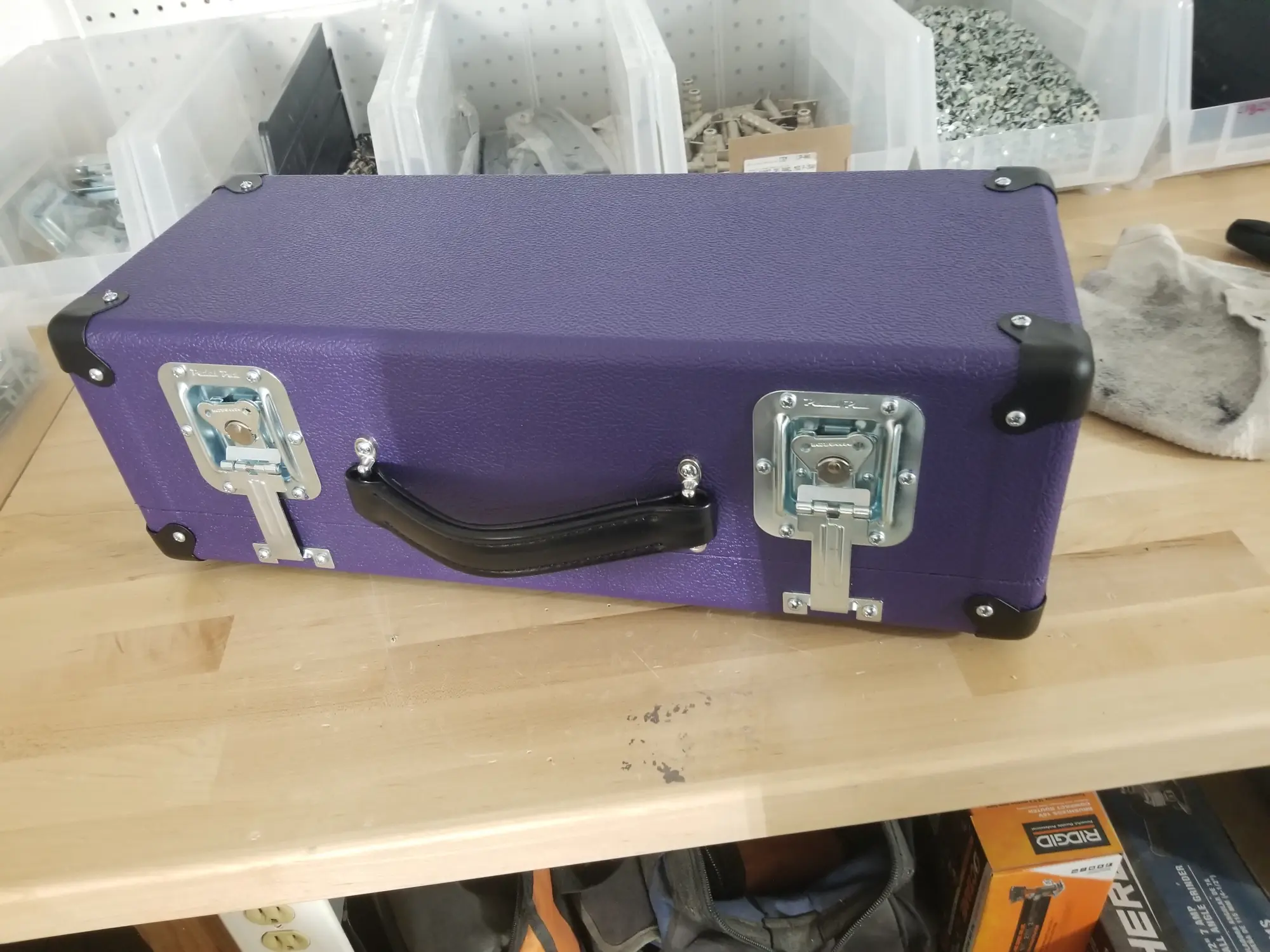 Build Your Own Custom Pedal Pad Pedalboard Today!
If you're in the market for a new custom pedalboard, there's no better place to start than Pedal Pad. Our team of passionate pedalboard builders will work closely with you to bring your dream pedalboard to life.
Made with only the highest quality materials and with the option to include unique features like built-in power inlets and input/output jacks, we guarantee that we can make you a pedalboard that meets all of your specific requirements at a reasonable price. Call today for your free quote, and get ready to build your ultimate custom pedalboard.