As a guitar player, you know that experimenting with effects pedals and fine-tuning your tone is essential to crafting your own unique sonic identity, but all of that is nearly impossible without a good pedalboard to keep your pedals safe and organized.
Still, every guitar player has different needs, making it incredibly difficult to figure out what actually makes a custom pedalboard "the best." However, here at Pedal Pad, we're confident that we've figured it out.
Our boards prioritize quality, customizability, and convenience above all, making it easier than ever to turn your dream board into a reality. Whether you're a session musician, a guitarist out on tour, or just like to play for fun, you can't go wrong with Pedal Pad custom pedalboards.
Why Choose Pedal Pad Custom Pedalboards?
Every guitar player is unique, and while many guitarists opt for building their own pedalboards, this can be time-consuming and tedious work that doesn't guarantee high-quality results.
With Pedal Pad custom pedalboards, you can ensure that your board meets all your strict requirements without spending all the extra time and money trying to fumble through building your own.
Besides being completely customizable to meet your needs, our boards come with a wide range of different features that put our custom pedalboards miles ahead of the competition.
Made From the Highest Quality Materials
A pedalboard is so much more than just a box that you attach your collection of pedals to. It's an extension of yourself that allows you to express yourself and share your ideal sound with the world.
Pedalboards need to be able to take all of the beatings you give them. After all, pedals aren't called stomp boxes for nothing, and the wear and tear from traveling and heavy use can add up over time and cause lesser pedalboards to wear down and break.
We know how attached our customers are to their boards, so we make sure that we only use the highest quality materials to build them. All of our products are made from void-free Baltic Birch wood and include the highest standard of ATA-approved fittings, ensuring the highest level of durability and longevity.
When you choose a Pedal Pad board, you aren't just getting your ideal custom board. You're getting a pedalboard that's ready for whatever you throw at it and will accompany you along your musical journey for years to come.
Custom Finishes
Every guitarist knows how vital their pedalboard is to their own sonic self-expression, but that's not the only way our boards can help you stick out. Your pedalboard's visual appearance is another way you can set yourself apart from everyone else.
While most mass-produced pedalboards stick with black and come in plain and boring soft or hard cases, our custom pedalboards can be customized to take on any number of different looks.
We offer a number of different custom finishes that allow our customers to create their own look that they just can't get enough of. With choices of single or multiple colors in different finishes like snakeskin, tweed, carbon fiber, and levant, there's an almost endless list of possibilities.
You can even add your own custom nameplate to set your board apart even more. No matter your design preferences, we'll work with you to create a board that's unique and visually appealing enough to make it the envy of every musician you play with.
Superior Organization
Space is an often overlooked luxury when it comes to pedalboards. Effects pedals require tons of different cables, wires, and power supplies to function properly, and making this all work can be incredibly challenging if there isn't enough space under the board to keep everything tidy.
No one wants to fumble around trying to shove cables and zip ties into places they just don't fit, but with a Pedal Pad custom pedalboard, you can rest assured that you'll have all the room you need and more.
Built-In Input/Output Jacks
Input jacks are another critical feature that most other custom pedalboard manufacturers overlook. While sticking cables in both ends of your pedal chain isn't the most challenging thing in the world to do, there is a better way to do it.
Our custom pedalboards help keep your pedals neat and organized by including input and output jacks on the case of the board itself. This way, you can keep your pedal chain plugged into the physical board, making it that much easier to set up and play.
You can even customize the number of inputs and outputs you want. If you're an audiophile, who loves splitting their output between multiple amps, there's no need to use complicated signal splitters anymore.
Our built-in jacks make it simpler and easier than ever to output your signal exactly where you want to without all the extra cables and work usually needed to set up a more complicated rig like this.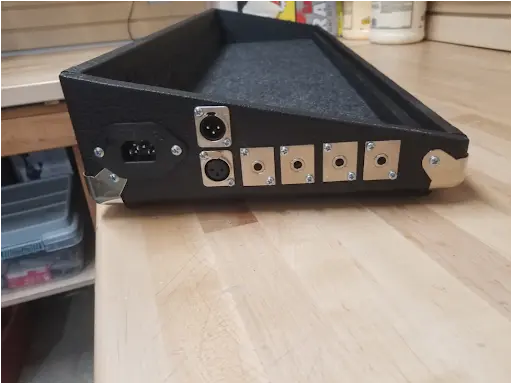 Just Plug-In and Play
Setting up your rig can be a complicated and tedious process that takes a lot more time than most guitar players would like. At the end of the day, all any guitar player wants to do is play their guitar with as little hassle as possible, and Pedal Pad custom pedalboards make it easier than ever for you to plug in and play in an instant.
We've already mentioned how much easier setting up your pedalboard is with the input and output jacks built into our boards, but we've also done the same with the power connectors. All you need to do is make sure that your pedals' power sources are plugged into the board on the inside and plug your board into the wall on the outside.
Since everything is built right in, you'll never have to mess around with your pedals, cables, or power chords once you've initially set up your board, making it quick and easy to plug in and play instantly.
Contact Us and Design Your Dream Custom Pedalboard Today!